Car Seat Program
Car Seat Program
Never, Ever Place Your Baby in Front of an Air Bag!
Not for "a quick trip to the market" or for "just this one time..."
Air bags can save your life, but they can seriously hurt or kill infants and children. Too many babies have died in crashes where the air bag struck a car seat that was placed in the front seat. Their parents didn't think they would be in a crash, didn't keep their babies buckled up in the back seat...and their babies died. Many babies die sitting on their parent's laps. Remember, your lap is never a safe place for children of any age to ride.
What can you do? Properly buckle the baby in a car seat in the back seat - every trip, every time, no exceptions - ever.
Don't forget, babies need to ride in rear facing seats until they are one year old and 20 pounds. Follow car seat instructions and vehicle owner's manual to correctly install your car seat!
Call the Auto Safety Hotline at (888) DASH-2-DOT if you need help.
Logan County Health Department offers the following car seats:
Infant

Convertible

Booster

All seats require a $10.00 donation.
A new law took effect on January 1, 2004 that penalizes parents who leave their children in a car, unattended and out of view, for more than ten minutes.
According to the January 11, 2004 edition of the Chicago Tribute, "Parents who leave their children unattended and out of view can face child endangerment charges that carry a penalty of up to a year in jail and a $2,500 fine. The law applies to children age six and younger who are left inside a car for ten minutes or more - whether the vehicle is running or not, without someone at least fourteen being with them or within eyesight."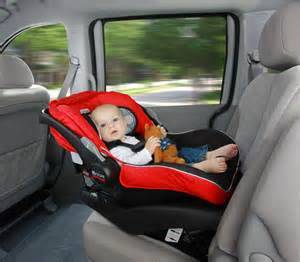 Illinois Child Passenger Protection Act
Effective January 1, 2004
Public Act #83-8, The Child Passenger Protection Act, has been in effect in Illinois since July 1, 1983. The law, amended effective January 1, 2004 requires anyone who transports children in Illinois in non-commercial vehicles to do so in the following manner:

 Children under the age of eight years must be secured in an appropriate child restraint system, more commonly called a child safety seat. Child safety seats include infant seats, convertible seats (rear-facing for infants and forward-facing for toddlers) and booster seats that are used with the vehicle lap and shoulder belt systems.

 Children weighing more that 40 pounds may be transported in the back seat of a motor vehicle while wearing only a lap belt if the back seat is not equipped with a lap and shoulder belt system for booster seat installation.

 Children and young people eight and up to 16 years of age must be secured in a properly adjusted safety belt in any position in the vehicle

 The parent of legal guardian of a child under the age of eight years is responsible for providing a child safety seat to anyone who transports his or her child.

 Every person under the age of 18 years who transports a child eight years of age or older (up to 18 years) is responsible for securing that child in a properly adjusted and fastened safety belt or child safety seat.
Those found in violation of the law the first time will be fined $50, which is waived upon proof of possession of an approved safety seat. Subsequent violations are punishable by a $100 fine.
Children with physical disabilities that prevent the use of standard safety seats are exempt from the provision to the law if the disability is duly certified by a physician.